So you're looking for weed with a mighty punch? Something with so much THC that it unscrews the top of your head, picks up your brain, and puts it back in upside down?
Weeeell… you're in the right place because, in this post, you'll learn which strains of cannabis are the strongest [and contain a boatload of THC]. If only so you can avoid them.
But here's something that you need to know.
Here's the truth:
Just kidding — you might be able to handle it. Most regular users, however, can't. I know I can't. Which is why I've learned to steer clear of weed strains with massive amounts of THC. They're just not my cup of tea.
But, you might be different. That is why KindCanna stocks different strains in our choice weed buds packages — from the mellow sativas with 'merely' 15% of THC to punch-packers like the Super Lemon Haze [that boasts 25% of THC… if you can handle it].
Check out more of our choice buds on the link below:
Looking for Cannabis That Packs a Mean Old Punch?
Check Out KindCanna's Choice Buds — You'll Definitely Find What You're After
Now, let's run down through the list of strongest cannabis strains out there… and see if you change your mind about trying one out!
NOTE: New strains are being developed on the daily. This list is accurate as of July, 2021… but it might not be accurate today. If you notice we left out a high-THC marijuana strain, leave a comment and we'll update the list.
9 Strongest THC Strains In the World
The Godfather OG [34% THC]
We're kicking off the list with a real killer strain — the Godfather OG! 
This strain has been called the most potent marijuana strain ever, despite being an indica-dominant hybrid. It boasts THC content levels of a whopping 34%, which will get you as high as a kite, regardless of your tolerance levels.
Growers believe that this is a cross between OG Kush, Granddaddy Purps, and Cherry Pie — but California Herbal Remedies [who cultivated this strain] are not giving away their secret.
Most users report feeling a cerebral high that is accompanied by feelings of calmness and euphoria. However, if you're new to the game, you might experience a couch-lock that lasts for an afternoon. If you're willing to flip the coin on this one, it's well worth it!
Chemdawg [32.13% THC]
Let's talk about Chemdawg for a bit.
For a strain that's so potent, people sure do know very little about it. Again, the creators [Next Harvest from Denver] are keeping really quiet about its genetic makeup.
However, what we do know is that Chemdawg has an impressive percentage of THC in it — around 32 percent — and that it definitely isn't for the uninitiated.
This indica-dominant hybrid is known for its very sharp aroma… you might also call it pungent. It has a hint of diesel in it, so it's no wonder that this strain is used to create the Sour Diesel strain.
Chemdawg is perfect for when you need to unwind and relax because it calms you down but also has a pretty uplifting effect. The high is euphoric and pleasant, but that doesn't mean you can't go overboard with it. Try Chemdawg at your own discretion… but don't say you haven't been warned!
Cookies Gelato [28% THC]
Cookies Gelato is a strain that's perfect for stoners with a sweet tooth. It's a cross between Girl Scout Cookies and Gelato and, while sweet, it packs a punch. The THC content in it is around 28 percent, give or take, and it brings about an euphoric high.
If you're a beginner, I totally don't recommend this one — it's a hell of a ride, which is why it's this high on the list of most potent cannabis strains out there. On the other hand, if you've built a thick skin smoking various strains up until now, a few puffs of Cookies Gelato will take you on an unforgettable ride.
Irish Cream [27% THC]
Irish Cream strain is a delicious cross between Real McCoy and Cookies and Cream. But, when I say delicious, I don't mean that you'll be tasting any cream in it. Sadly, that's not what the growers had in mind here. The aroma is a cross between herbs and pine, but it's pleasant enough.
Irish Cream has an average THC content of about 27%… possibly a bit higher.
It's perfect for people who are medicating with marijuana — it relaxes and soothes, which is why it's preferred by users who are suffering from anxiety, stress, and depression. The high is a bit more of a body high — it starts off cerebral, but you will get sedated after a while.
You can give Irish Cream a go even if you're a beginner, just make sure that you do it in the evening — you'll soon be ready for bed after a few puffs of this baby!
White Tahoe Cookies [27% THC]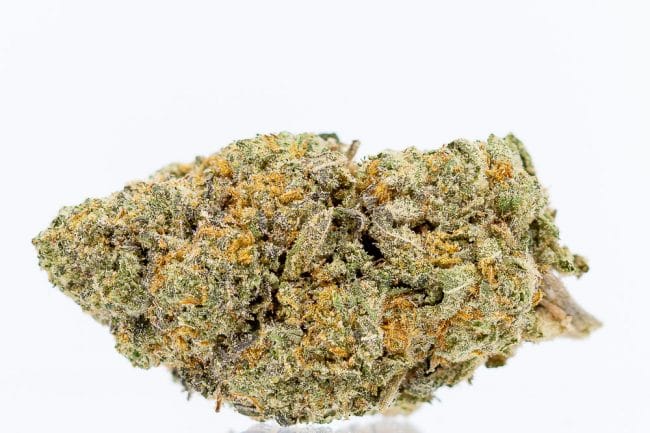 Another indica-heavy strain with a boatload of THC — it's the White Tahoe Cookies strain!
This one is a mix between The White, Girl Scout Cookies, and the Tahoe OG, so the name is self-explanatory.
That said, don't let the name lull you — WTC hits hard. And it hits fast.
With the THC content of about 27%, this is a beast of a strain. It starts off fast and furious, giving you an euphoric high, and filling your mind with creative ideas. However, after a while, the CBD takes the reins and you start feeling relaxed and calm. This feeling can last for a long time, which is why experts recommend White Cookies Tahoe for things like sleep problems, insomnia, or frequent getting out of bed in the middle of the night.
Looking for Cannabis That Packs a Mean Old Punch?
Check Out KindCanna's Choice Buds — You'll Definitely Find What You're After
Rude Boi [26.9% THC]
Rude Boi is a cross between Irene OG and Face Off OG, and it clocks in at close to 27% of THC. It's one of the most flavorful strains on this list, and perfect for anyone who's really into terpenes.
That said, the Rude Boi will do a number on you if you're not careful!
It packs a lot of THC, and it has a delayed effect. That coupled with the fact that it smells so damn good might cause you to smoke more than you need to. That's why you should be careful.
When dosed just right, the Rude Boi won't fog up your brain — the high is clear, and it's a real mood booster. That's why it's preferred by people who suffer from anxiety attacks, depression, or stress. Be warned that since this is an indica-dominant strain, you'll probably feel a little lethargic and hungry after your high wears off.
Strawberry Banana [26% THC]
This is one of those strains that you don't want to be puffing on during the day. It's best to wait for the night to roll in and then enjoy it.
That's not because you'll be completely bonkers from it — it's because you won't get any work done. Strawberry Banana is extremely relaxing and works great for creativity. If you're an artist, you'll definitely want to guzzle on it all day long. But, if you do any other type of work, it's best to wait until it's dark outside and you're all snug in your bed.
SB strain is a cross between Bubble Gum and Banana Kush, and it was created by DNA Genetics. It's also highly favored by people suffering from stomach issues, such as nausea, vomiting, or Crohn's disease.
Lemon Sour Diesel [24% THC]
Also on our list of high-THC marijuana strains is the Lemon Sour Diesel.
This is a proprietary strain developed by Lake Grade. It's a hybrid, but a sativa-dominant one. This works out great because LSD is a type of weed that helps focus and stimulation. Although it packs a helluva punch [at 24% THC, how could it not?], it's not very couch-lock-y.
LSD is great for all-day use, especially if you're hanging out with your friends. It has a rich terpenes profile, and it's completely sun-grown — most potent strains grow under lights.
Death Star [19.5 THC]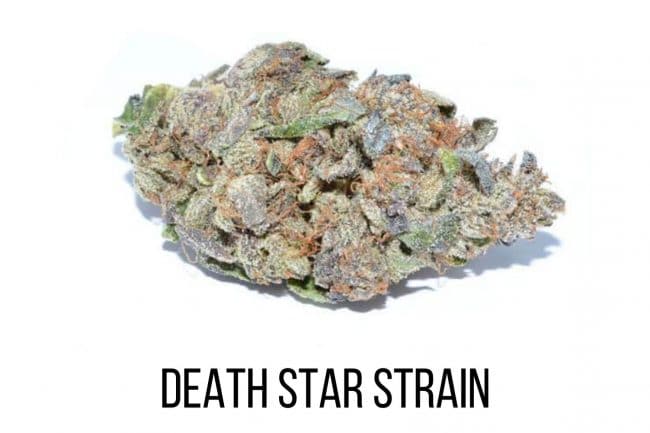 We end this list with the aptly named Death Star strain.
While it won't destroy planets, it's not far from it — it might destroy you!
Death Star has a skunky smell with sweet undertones, and it delivers a quality buzz. It takes a while to get going, but once it does, there's nothing stopping it. This strain results in a relaxing high, with just a smidge of euphoria.
Word of warning — while the Death Star is not as potent as some of the strains that made it onto our list of strongest marijana strains, it's not to be trifled with. If you're a beginner, you'd be better off finding a more mellow strain.
Like something from the KindCanna vault of awesome weed strains:
Looking for Cannabis That Packs a Mean Old Punch?
Check Out KindCanna's Choice Buds — You'll Definitely Find What You're After